Vibroacoustic Harp Therapy® (VAHT)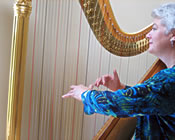 The sonorous sound of the harp usually conjures up images of the heavens, natural settings and of healing ceremonies in ancient temples. In early history the harp was thought to possess magical powers, and was revered as an instrument of healing, transition and transformation. An archetypal instrument of gods, angels and kings, the harp symbolizes a mystical ladder that connects this world with the next. Today, in addition to its role on the concert stage, the harp has once again found its rightful place as a therapeutic instrument at bedsides in hospitals and other clinical settings.
Harp therapy pioneer Sarajane Williams has elevated the benefits of live harp music to a new level. Often described as a musical massage, Vibroacoustic Harp Therapy® (VAHT) delivers the vibration and resonance of live harp music by way of a sound chair or vibrotactile device. When a client senses specific tones or pitches that resonate in areas of the body where s/he experiences pain or tension, the VAHT practitioner tailors the music to emphasize those frequencies.
Most people who receive VAHT report responses such as deep relaxation, dream-like imagery, pain and tension reduction, increased energy, emotional processing and release, increased body awareness, and a feeling of being nurtured.
Persons who suffer from conditions such as chronic pain, fibromyalgia, headaches, insomnia, Reflex Sympathetic Dystrophy, Sjögren's syndrome, tinnitus, respiratory congestion, lymphedema, 'chemo-brain,' anxiety and depression have reported a decrease in symptoms after 20 minutes of VAHT.
Sarajane Williams, M.A., is the innovator of Vibroacoustic Harp Therapy®. She is a psychologist, licensed in Pennsylvania, and is a professional harpist. Her 35 years of experience in the healing arts includes: nurse, cardiopulmonary technologist, cardiac catheterization laboratory director and biofeedback therapist. Sarajane has authored several books and DVDs that are required by harp therapy training programs and is the founding director of The Vibroacoustic Harp Therapy Training Course®. Williams was also a founding member of The National Standards Board for Therapeutic Musicians. She is a composer, lecturer, harp teacher, filmmaker and publishing editor of The Harp Therapy Journal.
Sarajane studied harp with Dorothy Knauss of Allentown, Pa., and received her master's degree in counseling psychology from Kutztown University. She and her husband, classical guitarist Ted Williams, often perform together as The Williams Duo. The latest of her six CDs, Harp Music for Healing (Sounds True, 2012), features her original compositions. She also has another office near Allentown, Pa.