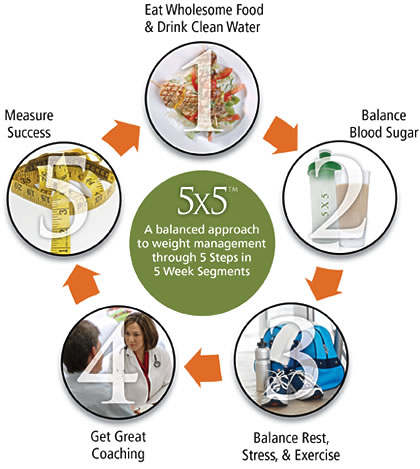 What is the Weight Loss 5X5 Health Promotion Program?
The Weight Loss 5X5 Health Program is personalized and comprehensive wellness training.
This program provides an individualized plan with a wholesome food menu, a customized exercise prescription, stress management tools, sleep considerations and many tried and true tips to assist you in navigating through healthy choices, becoming a healthier you.
What you will learn from 5X5:
How blood sugar affects how you feel, your health and your ability to burn fat.
How not to be hungry while losing fat and conserving muscle.
How different foods impact general health and energy levels.
An effective and sustainable Exercise Prescription designed specifically for you.
How to avoid the pitfalls of an inappropriate exercise program
Simple tools for stress management and improved sleep
The value of consistent and knowledgeable coaching to help you achieve lasting wellness.
Realistic goal setting.
Individualized nutrient supplementation.
How to effectively measure and reward your progress.
The importance of a meal planning routine.
Tips for grocery shopping and food preparation
Why water is so important to weight loss and general health
How to transition to real life eating with the help of your coach
What foods are your friends and which are your unique foes
The six "Keys to Success"
How the simple practice of visualization eases the challenge of creating healthy changes
Call Crossroads Apothecary to Schedule: 410-992-4747