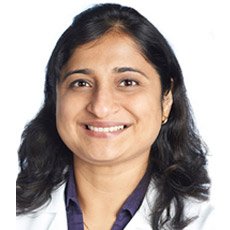 Rupal Desai, M.D., MPH
Specific Specialty: Internal Medicine
Rupal Desai, M.D. received her Bachelor of Medicine and Bachelor of Surgery degrees from North Maharashtra University in India. Dr. Desai received a Masters in Public Health from Yale University in 2000 with an emphasis of study in chronic disease epidemiology.  Her research was on breast cancer risk factors.
Dr. Desai completed her Internal Medicine residency at Greater Baltimore Medical Center in Maryland. She received her board certification in Internal Medicine in 2004 and has been in private practice since that time. Dr. Desai received certification in Cardiopulmonary Stress Testing from UCLA in 2008.
"I believe that integrating conventional medicine with appropriate complementary therapies that have scientific evidence of effectiveness and safety can provide maximum health care benefits. It is my goal to work with patients to understand their health concerns and provide them with treatment options that best meet their needs. I strive to help patients understand their risk factors for chronic diseases and develop individualized strategies to optimize health and prevent chronic illness."
To contact Dr. Desai, please call 410-997-5191.